Amy Walker Cagle is a Board Certified Specialist in Estate Planning and Probate Law, focusing her practice on estate and gift tax planning, probate law, and trust administration. She has helped hundreds of clients navigate probate matters with the court and strives to use this experience to create straightforward and functional estate plans tailored to her client's desires.
Amy's clients cite her competency and sincerity as particular strengths that allow them to easily understand the process and to feel confident with any decisions they make. She joined the firm in 2010 because she is dedicated to its mission of attentive and thorough client service.
Amy graduated from Syracuse University College of Law, where she concentrated her studies in estate planning and tax issues and received a certification in Estate Planning. She was admitted to the New York State Bar in February 2009 and the North Carolina State Bar in March 2010.
Amy previously handled volunteer cases for Legal Aid of North Carolina. Her work in this area was recognized by the Greensboro Bar Association with the 2010 Herb Faulk Society Award for pro bono hours. She is a frequent speaker on estate planning topics to a wide variety of community groups.
Amy was born in Silver Spring, Maryland, and grew up in the Washington, D.C., area. In 2001, she moved to Syracuse, New York, to attend college and law school. In 2008, having sufficiently experienced the snowy winters in Syracuse, she moved to Mebane, North Carolina, where she now warmly resides.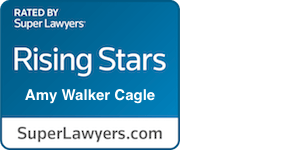 Areas of Practice
Wills and Trusts, Estate and Tax Planning, Trust and Estate Administration
Admissions / Honors
North Carolina State Bar, 2010
New York State Bar, 2009
Education
Syracuse University College of Law, J.D., 2008
Syracuse University, B.A., English, 2003
Professional and Community Memberships
North Carolina Bar Association, Member since 2011
Orange County Bar Association, Member since 2011
Project Compassion, Chapel Hill, NC, Board of Directors Member 2011-2014
Carolina Villages, Board of Directors Member 2014-2017
SuperLawyers Rising Star 2018-2019
What Clients Say About Amy Walker Cagle
"Since early 2011, Amy Walker has 'bulldogged' the extremely complicated estate settlement of my older brother. I welcome the day that I first enlisted Amy and Beth Tillman in my service as executor." — Bill Price, Executor of the Estate of Reynolds Price
"Amy handled all my personal and business estate planning. Her knowledge and professionalism was second to none. Estate planning is a serious matter but working with Amy made it much less intense."
"Thank you so much. We had long deferred having these important documents, and you made the process quick and painless. It was a pleasure to meet you as well, and I cannot thank you enough for your expert assistance!"
"We appreciate your approach, professional advice, and personal touch in making us comfortable with all parts of our wills.  You set us at ease and quietly prompted us to ask questions."
Article Links
"Soil and Sorrow"
People own land.  This concept is as old as dirt.  Still, I sometimes daydream about how land was transferred in the days before government agencies regulated out all of the chaos and fun.  I envision a scenario where a person laid their claim to a piece of land (recently and involuntarily vacated by a now-deceased owner) simply by physically presenting themselves on it.
"Don't Keep Your Beneficiaries Sitting at a Red Light"
I have heard people comment that they do not need to plan their estate because they do not have enough money. My response to them is, "If you have a car, you have an estate."
"When Did You Last Check Your Beneficiary Designations?"
I think we can all agree that memory is an easily influenced contraption. Too often we rely on what we know about ourselves and our current surroundings in concluding what our past decisions may have been.
"It's Not Just About Money – Your Estate"
Everyone has an estate and every estate has value, but this value is not often monetary. It is all too easy to dismiss estate planning as something that is not needed until we have amassed a certain amount of wealth.
"Marriage Is Not A Substitute For An Estate Plan"
On several occasions when I have met with unmarried couples, they have interrupted the initial pleasantries, taken a deep breath, looked at me intently and asked: "Couldn't we skip all this planning and just get married?"